History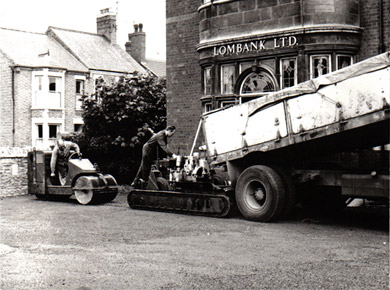 I was born in 1965, at that time my Dad was in haulage. He was based at Redlands asphalt plant in Little Paxton where at one point he was operating up to 7 asphalt delivery trucks. When my Mother was expecting my younger brother my Dad would take me out of the way to allow her some peace and quiet. So from the age of two I had the un-mistakable scent of an asphalt plant up my nose, and grease, oil and bitumen under my fingernails (health and safety was a bit more lapse in the late 1960s). It was during the latter part of the 1960s that the emphasis shifted from haulage to contract surfacing. If you click on photos there is a picture of me aged about four standing on a tarmac roller in 1969. Like the Texan Cowboys, they liked to start them young in those days.
School holidays aside, I started officially working for my Dad in 1981, and the family business grew through the 1980s, my older Brother Adrian was already there working, and my younger Brother Jeremy joined us, and in the mid 1980s my Dad took a gamble and installed an asphalt plant in Oxney Road Peterborough. My area of expertise was road planing and site supervision of tarmac gangs (therefore I am just as expert at ripping it out as I am at laying it).
Dad sold out to a big conglomerate in 1989. I stayed on as a surfacing foreman, whereby I got the opportunity to lay much greater daily tonnages, and in fact it turned out to be a valuable experience for me. Having experienced highway work I grew restless and finally decided to strike out on my own in 1992 doing what I loved best, which is dealing with the smaller trickier jobs such as private drives, car parks foot paths etc.
Since then we have gone from strength to strength, whilst at the same time resisting the temptation to grow too big thus running the risk of losing close contact with the customer (which is the bit I really enjoy the most). The financial profit is important of course, but also it is very important, that I am well regarded by my customer.